Making Finding the Right AutoSock Size for your 275 Based Tire Easy:
Finding the right AutoSock for your vehicle can be extremely difficult. We are striving to make it easier by collecting all the tire sizes and letting you click them. Once you do that you will be taken to the right size for your vehicle. No need to rack your brain trying to read all the numbers. Just press control and F or option and F and then input your tire size and you will find the right AutoSock for your vehicle.
Why Use An AutoSock for your 275 Based Tire Instead of Chains or Cables:
The biggest reason is ease of use. An AutoSock is much faster and easier to install than chains or cables. In fact, it is so easy to use that you will not have to look up on Youtube next year how to do it. It is as easy as slipping the appropriately sized AutoSock over your 275 based tire and then pulling forward or backward to put on the AutoSock where the tire was touching the ground. Please keep in mind we recommend that you turn off your vehicle when you do this and it is probably smart to have the parking brake engaged just for the extra security.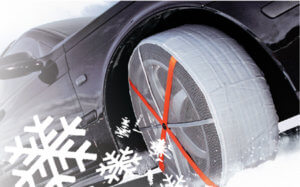 Emergency Traction Device:
An AutoSock is the ultimate emergency traction device for a few reasons. We have already talked about how easy they are to use and install. The other thing to keep in mind is that they are easy to transport. You can grab them quickly and easily when you are leaving for work in the morning. No need to strain and carry another heavy object while you are carrying your bag and your coffee. They are light and they also fit better in tight spaces than cables or chains because they are made of fabric. In fact, they can be used to get you home so you can install your more permanent solution of cables or chains if you so desire. You can install your AutoSocks in a few minutes when other people are struggling to install their chains and cables.